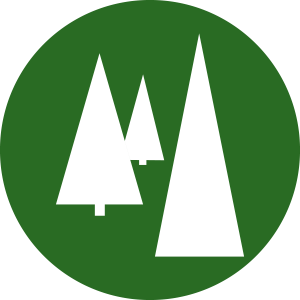 Voted #1 Snowmobile Resort in the Nation by SnowGoer Magazine
Maybe you've visited Lakewoods a lot in the summer before. Well, now it's time to enjoy your favorite Northwoods resort in winter as well: Snow on the trees, the sparkle of icicles, and a nip on the nose. The crowds are gone and the rates are better. A host of special sports and events take place here after the summertime excitement is over.
Activities for all: Grab a toboggan or sled and go tearing down a nearby hill. Take a day trip and go Alpine skiing in the nearby Upper Peninsula of Michigan. The ski hills are only 45 minutes away! Make your own fun by rolling up some snowballs and building a great snow family. With all our snow, and the will to enjoy it, anything is possible.
Snowmobiling at Lakewoods
We have been voted the No. 1 Snowmobile Resort in the nation six times by SnowGoer magazine and with good reason: We have more than 600 miles of super groomed trails in Bayfield County alone, of which we are at an intersection of two main trails. Sawyer County and the Hayward Lakes area add another 600 miles, starting just three miles away from our resort. There are still more trails in Ashland County, only eight miles away. You can ride for a week and never cross your tracks. Lakewoods Resort offers a full-service snowmobile shop with light repairs, gas and oil + Snowmobile Rentals.
More: Snowmobile Events & Snowmobile Trail Conditions
NOTE: Conditions on trails can change rapidly depending on weather conditions and the amount of traffic they receive. We do our best to let people know what is happening in the area, most often by comments from the users themselves. However accurate our report is to some, the rest will feel it as inaccurate. Please know, at the time of the report, we are as forthcoming as possible about snow and trail conditions. Enjoy them safely.
Cross Country Skiing
For those who zip along trails on their own power, Lakewoods has a special appeal. Adjacent to the Rock Lake Trail System in the Chequamegon National Forest, our golf course skatingtrails interconnect with more than 60km of classic tracks in the most pristine area. Located in a semi primitive, non-motorized region of the 850,000-acre forest, the well-marked trails of Rock Lake cross glacial hills and frozen wetlands amid thick forest. For those looking for a world class venue, the start of the American Birkebeiner ski race is located eight miles away in Cable. Ski this super-highway of the forest along the same track taken by more than 7,000 skiers every February. Whatever your inclination, the many trails of the Cable area and the Chequamegon Forest will spoil you.
Snowshoeing
Lakewoods was proud to host the 2019 United States National Snowshoe Championships!
For a second time, the nation came to Cable, Wisconsin to recognize the best snowshoe racers in these United States.  Featuring several different courses on our Forest Ridges Golf Course, the challenging glacial terrain and beautiful scenery makes a fitting setting for the competition as hundreds of the best snowshoers in the Nation vie for the number one spot.
Lakewoods rents the newest style of snowshoes using the latest technology. Light and easy to use, these new snowshoes open up the sport to the inexperienced and experienced alike. Hike along the shores of Lake Namakagon, delve deep into the Chequamegon National Forest or follow the beaten path on Forest Ridges Golf Course. The choice is yours.
Ice-skating
Lakewoods offers a lighted skating area so you can lace up for an exciting game of hockey or gracefully pirouette around the ice. If you forget your skates, our winter headquarters will assist you finding a pair or get you loaded up with hockey sticks and a puck. After you get nicely chilled, ease up to our lounge for hot chocolate or a tasty coffee drink to warm up. Check our calendar for daily activities!
Ice Fishing on Lake Namakagon
Lake Namakagon is known for fishing throughout the year.  Be it Walleye, Northern, Panfish, Crappie or more, they can all be had through the Namakagon ice.
Early season and late season is best as snowmobile traffic quiets down and snow conditions are more conducive to fishing.
That being said, we have outstanding fishing contests and ice fishing events throughout the winter. Try your skills on the ice. We look forward to seeing you.